New Release by Jeremy Bleich
It is one month after the grand launch of the new INS Rec. Co. store and Dave and I are already proud to announce our first album release of 2009. Birth bassist Jeremy Bleich has graciously allowed us to distribute a new collection of music that he composed for Circus Luminous in New Mexico! We think it's very cool, we hope you like it too!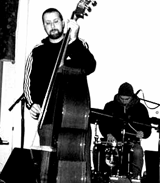 While you are expanding your boundaries… check out our other exclusive digital releases: To Mock and Love by Nemo Nemon and Antecedent by Ancillary.
Our last piece of big news: The group below will represent Trepanning Trio (plus 7) at the big album release show on Friday, February 13, 2009. It's going to be a VERY interesting group:
David Mansbach, Cleveland, Ohio – Bass, Guitar, Percussion, Stem Glasses, Melodica
Ron Tucker, Brooklyn, New York – Drums, Percussion, various key and mallet instruments
Bob Drake, Cleveland, Ohio – Various hand-made acoustic and electronic instruments, Banjo
Andrew Ludick, Kilkenny, Ireland – Kalimba, Ukulele, Percussion, Melodica and Harmonica
Kris Morron, Cleveland, Ohio – Guzheng and Trombone
Dan Wenninger, Cleveland, Ohio – Saxophone
David Badagnani, Kent, Ohio – Accordion, Oboe, English Horn, Fiddle & Viola da Gamba
Tyler Horter, Cincinnati, Ohio – Guitar and Banjo
Eric Alleman, Cleveland, Ohio – Keys and Percussion
Brent Gummow, Cleveland, Ohio – Video
This show will be at the Beachland Tavern, in Cleveland, Ohio on Friday, February the 13th, 2009. Ancillary will also be performing a short set on that night as well to help promote his release.