Celebrate a Decade of Experimental Music with "Year 10"
Ten years ago, Infinite Number of Sounds Recording Company (INS Rec. Co.) offered up its first official release as an independent record label. The "Infinite Number of Sounds 2001 Compilation" featured 10-tracks by 4 Cleveland-based artists. We burned the CDs in our studio/living room, and Matt Mansbach (Nemo Nemon) painted each cover by hand. That compilation embodied our passion, ingenuity and DIY work ethic. It set the tone for the decade to come. Some tracks on that humble compilation would be polished and honed, and eventually appear on albums such as "Infinite Number of Sounds: Time Wants A Skeleton", "Nemo Nemon: To Mock and Love", and "Trepanning Trio: I Am a Crooked Arrow".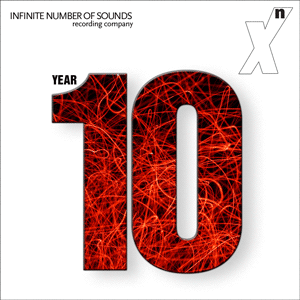 Infinite Number of Sounds Recording Company: YEAR 10 is INS Rec. Co's 25th release. It features 13 tracks by a family of artists that has grown to stretch from east coast to west coast. It represents 10 years of experimental, instrumental, electronic, and independent music. It is a testament of what is still to come. We hope you will enjoy this collection of singles and return to check out the 8 upcoming full-length albums represented. Download, sample, and share with your friends!
Thank you all so much for your support.
Here's to 10 more years!
Brent & David
Infinite Number of Sounds Recording Company