Jeremy Bleich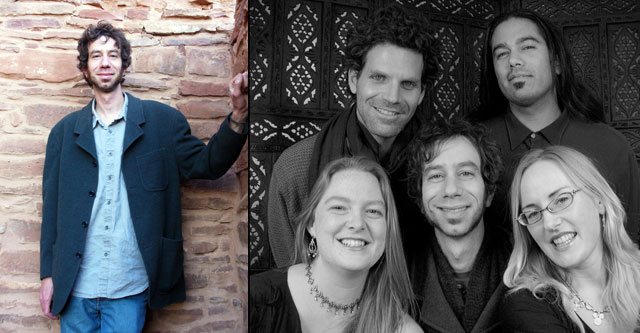 About:
Jeremy Bleich incorporates a wide palette of culture, ancient and modern instruments, traditions and forms as well as electronic manipulation into the creative process of composing, performing and recording music.
His approach to the electric bass and the oud have earned him a reputation internationally as an innovator. Jeremy is focused on producing music that captures the essence and meaning behind the process of creating it. He resides in Santa Fe, New Mexico where he is involved with presenting new music, as well as composing and teaching. He holds a degree in music composition from Cleveland State University.
Jeremy is a member of the critically acclaimed group birth and has performed and/or recorded with Coung Vu (Pat Metheny Group), Joe Maneri, Jeff Coffen (Bela Fleck), Chris Jonas, Carmen Castaldi (Joe Lovano), Brook Martinez (barky!), Kevin McCarthy and Nashville songwriters Rick Elias (Ragamuffins) and Jason White. He has recorded for MCA Records, Hopscotch Records, High Mayhem and INS labels.
Jeremy is also a member of the group medjool a Santa Fe, New Mexico based quintet playing original music and arrangements of traditional tunes inspired by the Middle East, the Balkans, and pop music traditions.
Members:
Jeremy Bleich
Contributors:
Sharon Gilchrist, Paul "Feathericci" Groetzinger, Brian Mayhall, Meg York, Sitara Schauer, Josh Smith, Nicolle Jenson, Meagen Chandler, Gregory Gutin, Jason S. Ordaz
Releases: