Electric Grandmother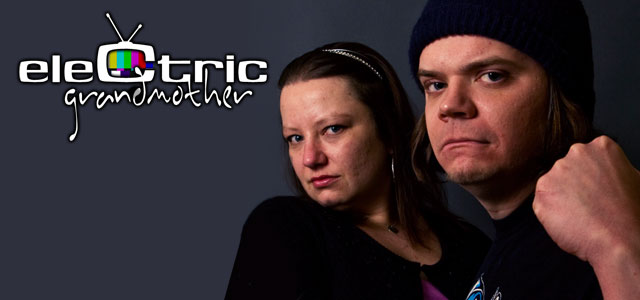 About:
The Electric Grandmother started in 1999 in Hawaii as a solo project of Pete Faust. Pete moved to Columbus in 2001 with his wife Mary Alice Hamnett. Following a series of hand-made cassette recordings, the first official "public" EG release occurred with 2003′s CD-R release, "My Imaginary Audience." Subsequent CD-R releases included 2003′s "Dickalis" and 2004′s "Sin City Sex Mix." In 2004, EG first took the stage, with Mary Alice joining the band offstage as a live performance projectionist. Early live performances included the use of a bubble machine, inflatable objects, disorienting lights, and garbage bags full of balloons.
2005 marked the 4th CD-R release by EG, entitled "Pee Sells…But Who's Buying?" In 2007, EG signed a contract with Columbus label All Hail Records and released "The Stenographer," which received a 4/4 star rating from Alternative Press magazine and significant college radio play.
In 2010, EG released the album "Listening Party" with the Cleveland/San Francisco based Infinite Number of Sounds Recording Company (who has also digitally re-released the entire EG back catalog).  The album received a healthy 7/10 rating from the online magazine Pop Matters. Mary Alice shifted from offstage projection to projecting onstage while handling backup vocal duties.
In 2011, the band moved from Columbus to Washington DC, with 120 live shows and six-full length albums under their belts.
Members:
Pete Faust and Mary Alice Hamnett
Website:
Suggested for fans of:
The Residents, The Queers, Renaldo and The Loaf, Flossie And The Unicorns and Airwolf. Not suggested for fans of Patrick Duffy.
Facebook:
The Electric Grandmother has been amusing and bemusing audiences for many years with their electro-pop/multi-media extravaganza show.
The Electric Grandmother is the inventor of the genre "Sitcom-Core."™
Releases: